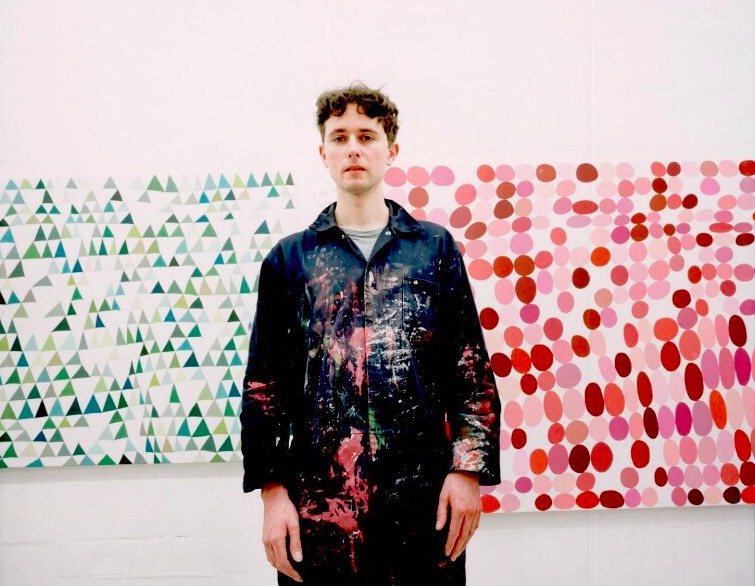 Courtesy Julian Anderson - National Portrait Gallery
Peter DAVIES
Born in 1970, he lives and works in London.
The work of Peter Davies consists in a reduced and distilled idea of a painting, highlighting the delicacy of a European perspective on Minimalism. His abstract paintings are derived from paper collages, firstly created, then projected onto the canvas. Their initial apparent simplicity is suggestive of gestural painting, but the gesture has been somewhat distanced from the artist's hand through the intermediary use of scissors over a brush to initially create the painted minimal geometric abstractions. The relationship between formal elements in individual paintings suggests that they are informed by an affinity with choreography and sculpture manifest in two-dimensional painted objects.
Peter Davies' selected exhibitions include The Decorator and The Thief, Northern Gallery for Contemporary Art, Sunderland, UK (2015); Function / Ritual, Vladimir Restoin Roitfeld, New York, USA (2014); The Indiscipline of Painting International Abstraction from the 1960s to Now, Tate St. Ives and Mead Gallery, University of Warwick, UK (2011-12); The Making Of Art, Schirn Kunsthalle, Frankfurt (2009); Previous John Moores Prize Winners, The Walker Art Gallery, Liverpool (2008).
Artwork