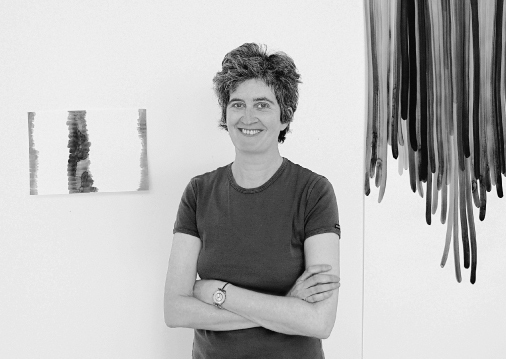 Silvia BACHLI
Born in 1956, she lives and works in Basel.
Often composed of lines or grids, each drawing of Silvia Bächli focuses on everything that can be considered as part of the realm of feeling. His work is a writing of his relationships with friends or acquaintances. His drawings made with gouache, Indian ink, charcoal or pastel on white paper are inspired by Scandinavian aesthetics and present a sensitive reality made of fragments and impressions. His work is a visualization of a moment captured in time.
Silvia Bächli represented Switzerland at the Venice Biennale (2009). Many personal exhibitions have been devoted to her in institutions including the Centre Culturel Suisse, Paris (2017, with Eric Hattan); Frac Franche-Comté, Besançon (2015); Pinakothek der Moderne, Munich (2014); Kunstmuseum St. Gallen (2012), the Center Georges Pompidou, Paris (2007) and the MAMCO, Geneva (2007). Her works are featured in major collections including MoMA, New York; Museum for Modern Kunst, Frankfurt; Centre Pompidou, Paris; Kunstmuseum, Basel; Kunstmuseum St.Gallen; Neue Pinakothek, Munich; Mamco, Geneve; The Art Institute of Chicago.
She is the winner of the Daniel & Florence Guerlain (Paris) and Han-Thoma Preis (Baden-Württemberg) prizes awarded in 2007.
Artworks