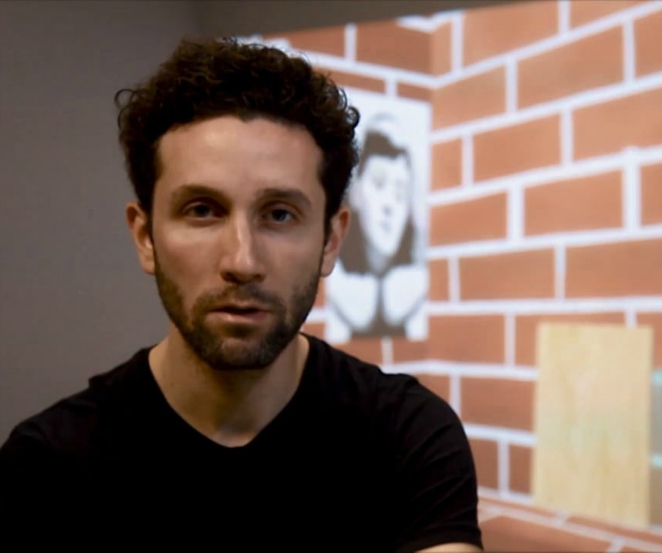 Courtesy Franck Obadia
Sepand DANESH
Born in 1984, he lives and works in Paris.
The research of French-Iranian artist Sépànd Danesh centers around a world replenished by silence and where each gesture is open to interpretation. Each work reveals the evidence of a loneliness determined by the artist's own history – his family fled Iran after many years of war – and by his encounter, as a child, with a foreign culture and language (French) that he had to learn through books.
In his paintings, the corner has become the main subject: the traditional image of a zone used to punish children, made to stand facing the corner, is here a place, imposed or not, to withdraw and commune with oneself. A few, carefully chosen iconographic elements fill out these vertical spaces and hence suggest a different interpretation for each work.
Since the beginning of the French phase of his childhood, Danesh has also been copying by hand works by great writers, such as Marcel Proust. The slow and thoughtful gesture this involves acknowledges the idea of a new language that must be learned in a set and strict manner.
A graduate of the École Nationale Supérieure de Beaux-Arts de Paris (2010), Sépànd Danesh's solo and group exhibitions include those held at the FRAC of PACA and Poitou-Charentes (2017), Galerie des Grands Bains Douche de La Plaine in Marseille (2016), Musée des Arts Décoratifs de Paris (2016), Mac/Val (2015), and the Cité des Arts de Chambéry (2014).
Artworks