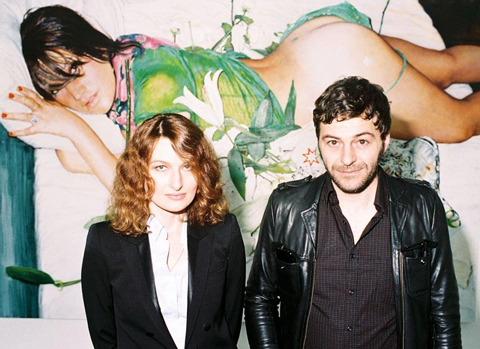 Courtesy Romain Bernardie James
Ida TURSIC & Wilfried MILLE
Born in 1974, live and work in Dijon (France).
The work of the duo Ida Tursic and Wilfried Mille deals with the manipulation, reuse and disappearance of images and the disruptive role of painting in this process. The anonymous pictorial material available in magazines and in the vast data pool of the Internet is transformed into the traditional field of painting. Drawn from the Internet, the background images of works repainted on the canvas are then alienated or interrupted by superimposed layers of paint of various patterns and abstract and geometric elements. The leading painting thus fights with the image reproduction painting of the bottom of the canvas. The subjects represented: obscene pornography, film scenes or landscapes illustrate the overload of the production of mainstream images circulating in the media.
Solo exhibitions include Fondation Ricard, Paris (2017), Kunst in Wendingen Foundation, Germany (2017) or FRAC Auvergne, France (2011).
They participated in several group shows, including Biennale of Lille 3000 (2019), Painting the night, Centre Pompidou Metz (2018), La fotografia dipinta nell'arte contemporanea, Fondazione del Monte di Bologna e Ravenna (2017), Shit and Die, Palazzo Cavour, Torino (curated by Maurizio Cattelan,2014). Their work is in the permanent collections of the Centre Pompidou, Paris; Le Consortium, Dijon; Berardo Museum, Lisbon; Francès Foundation, Senlis, FNAC, Paris and FRAC Auvergne, Bourgogne and Ile-de-France, among others.
Almine Rech Gallery (Paris, Brussels, London, New York)
Artwork