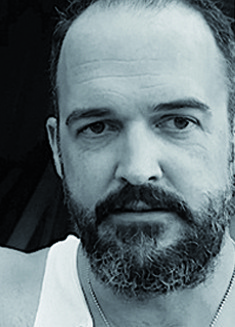 Gavin PERRY
Born in 1971, he lives and works in Miami.
Gavin Perry's paintings, although created in Miami, recall the style of the Californian Finish Fetish artists of the 1960s, and introduce a formal, vibrantly coloured, and gleaming perfection with the use of industrial materials taken out of their context, creating visual phenomena which change with time. Some of his subjects include the social clash between decorative esthetics and customized cars.
Gavin Perry graduated from the Tyler School of Art at Temple University in Pennsylvania. Selected exhibitions include those held at the Contemporary Art Museum Houston (2013), Frost Art Museum in Miami (2012), and the Art Basel shows in Basel and Miami Beach. He was shortlisted for the first edition of the Jean-Francois Prat Prize (2012) and won the Chestler Foundation Award, Miami (2001).
He is represented by the Galerie Sultana (Paris), Snitzer Gallery (Miami), and Barbara Davis Gallery (Houston).