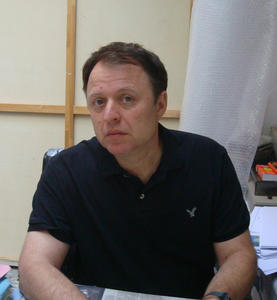 Philippe RICHARD
Born in 1962, he lives and works in Paris.
Philippe Richard is an abstract painter, following a European tradition of investigation into the potential of surface and color, but his practice is also closely tied to language and poetry. Each painting is an attempt to compose a train of thought, using repetitions and the exploration of forms and shapes, based on rhythms and associations from a vocabulary of his own painterly syntax and grammatical structures.
Philippe Richard has exhibited widely throughout Europe. Selected solo exhibitions include Indubitablementat Galerie Bernard Jordan in Paris and Comment direat La Maison d'Art Contemporain Chaillioux in Fresnes. His work has been included in many group shows, most recently at the Fondation Louis Vuitton in Paris (2015). In February 2013, Philippe Richard was an artist-in-residence at the Santa Fe Art Institute (SFAI).
Galerie Bernard Jordan (Paris)