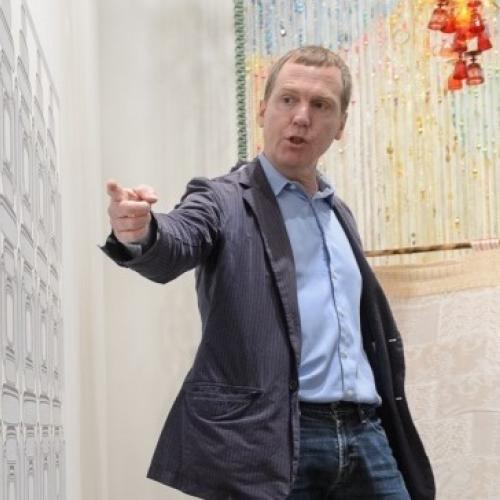 Courtesy Filip Wolak
Dan WALSH
Born in 1960, he lives and works in New York.
Often highly atmospheric in terms of their shapes, colors, or the way they are hung, Dan Walsh's geometrical compositions enable, to quote the artist himself, the creation of "an arena for a new approach to the image." His work focuses on perception. Walsh's arrangements of colored paving stones, whose curved lines and rounded edges produce an unsettling sense of delicacy, allow them to be perceived in various ways by the onlooker.
Dan Walsh is a graduate of the Philadelphia College of Art and Hunter College (New York). Selected exhibitions include those which took place at the MAMCO in Geneva (2016), Nasher Museum (2016), Plateau-FRAC Paris IDF (2014), and during the 2014 Whitney Biennale (New York). His work is held in the collections of the MoMA (New York), Museo Jumex (Mexico), Fonds National d'Art Contemporain (FRAC, Paris), and the Saatchi Gallery (London).
Xippas (Paris, Geneva, Montevideo)
Artwork