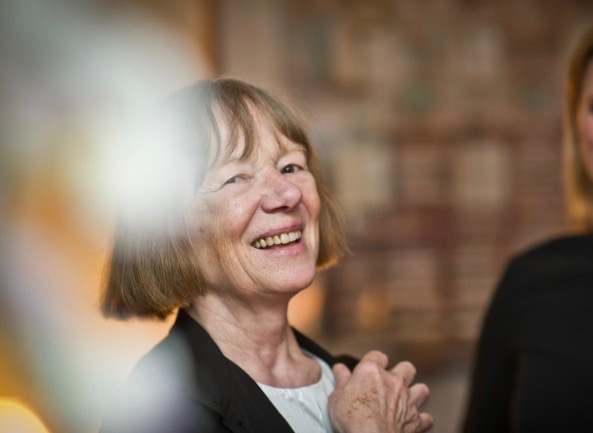 Fiona Kotur
Candida HÖFER
Born in 1944, she lives and works in Cologne.
German photographer Candida Höfer is a pioneer of large-scale color images depicting empty interiors. She focuses on semi-public spaces, particularly institutional and cultural architecture (libraries, operas, museums) devoid of visitors, as is the case in her Räume(Spaces) series started in 1980. The absence of people allows Höfer to highlight the buildings' details and the specificities of the space, and to show how these can influence the human experience. Her large color prints confront onlookers with almost pictorial compositions with a central point of view and infinite perspectives. Documentary precision is combined here with a poetic vision of symmetry and light.
Candida Höfer studied under Bernd and Hilla Becher at the Kunstakademie Düsseldorf, where she rubbed shoulders with fellow students Thomas Struth and Axel Hütte. Recognized internationally, her work has been the subject of solo exhibitions, notably at the Louvre Museum (Paris) and the Hermitage Museum (Saint Petersburg), and is held in the collections of more than twenty public museums, including the Center Pompidou (Paris), Tate Modern (London), Museo Nacional Centro de Arte Reina Sofía(Madrid), Kunsthallen (Basel, Bregenz, Hamburg, Karlsruhe), MoMA and Guggenheim (New York), and the J. Paul Getty Museum (Los Angeles). She represented Germany at the 2003 Venice Biennale.
Rena Bransten Gallery (San Francisco)
Ben Brown Fine Art (Hong Kong)
Artworks