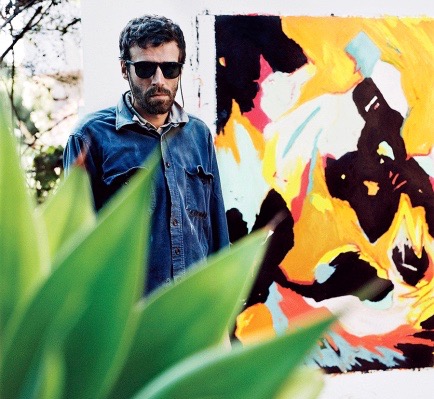 Courtesy Anton Corbijn / Vogue
Harold ANCART
Born in 1980, he lives and works in New York.
Harold Ancart paints the promises of a marvelous faraway realm in which we could escape. His large-scale paintings are marked by movement, biomorphic forms, and landscapes. He is interested in American abstract painting: its monumental aspect, coming from muralists, and its fields of colors, either in color blocking, or in colors being incorporated into each other. But Ancart's work tilts into figuration. "It's as though Barnett Newman or Clyfford Still had a party with James Ensor," the artist says. Harold Ancart's work revolves around this asserted contradiction: in his paintings, abstraction is laid bare, while representation remains undeniably present.
A painter and sculptor, Ancart was born in Belgium, where he studied at an art school. His recent exhibitions include There is no there there at the Menil Collection, Houston, Texas, USA (2016), and Tierra Vaga at the Casa Wabi, Oaxaca, Mexico (2016, with Michel François). He has participated in critically acclaimed group exhibitions: Myth/History IIat the Yuz Museum, Shanghai (2015); Europe, Europeat the Astrup Fearnley Museet, Oslo (2014-15); The Great Acceleration: Art in the Anthropocene, the 19th Taipai Biennial (2014); Champs Elyséesat the Palais de Tokyo, Paris (2013), and I Know Youat the Irish Museum of Modern Art, Dublin, Ireland (2013).
Artwork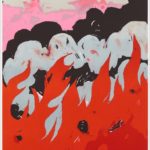 Untitled (Flame)
, 2017
Lithograph on BFK Rives 300 g
39,8 x 30,7 in. / 101 x 78 cm
Discover the artwork