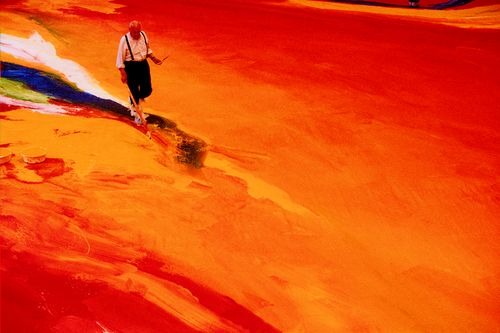 Olivier DEBRE, (1920 – 1999).
A major colorist painter, Olivier Debré was a representative of lyrical abstraction. A period of structured abstraction during the 1940s and 1950s, employing a subdued palette, was followed by a visit to the USA in the early 1960s. After this journey, his style evolved into fluid abstract painting expressing the qualities of light, color, and emotions felt when in front of nature, in contrast with the subjects and themes of American abstract art of the time. In the 1980s he painted monumental works, sliding a kind of paintbrush-broom across the canvas laid on the floor. These works caught the attention of French museums because they seemed liable to create a constructive dialog with American abstract painting.Debré also created monumental curtains for the Comédie Française (1987), as well as for the opera houses of Hong Kong (1989) and Shanghai.
A graduate of the École Nationale Supérieure des Beaux-Arts de Paris, Olivier Debré was represented by the Knoedler Gallery in New York and Paris. His works are held in collections all over the world, in such major international museums as the Centre Pompidou in Paris, Musée d'Histoire et d'Art de Luxembourg, Philips Collection in Washington DC, and the Taipei Fine Art Museum. The Tours' art center was renamed the Centre de Création Contemporaine Olivier Debré (CCC OD) in 2015, when the artist's works and archives were incorporated into its collections.
Artwork